Product Name : Affilorama
Creator : Mark Ling
Price : Free to join
Products : Affiloblueprint ($197), Affiotheme ($97) , Affilorama Premium ($1 for 1 month and then $67/month including Affiilotools), Affilojetpack ($997 but you can buy with just $747)
Website : Click Here
Do I recommend : Certainly Yes

Affilorama Free Membership -

8/10

Affiloblueprint -

8.2/10

AffiloTheme -

7.8/10

Affilorama Premium -

9/10

AffiloJetPack -

10/10
Who is Mark Ling,Creator of Affilorama?
He is a 7 figures internet marketer not only by affiliate but also various type
One of the best affiliate marketing teacher online
Also the creator of the ultimate SEO tools Traffic Travis
What is Affilorama?
Well,it's a membership site that teaches you an overview about affiliate marketing. The company has been in bussiness from 2005 and have successfully educated a lot of internet marketer. This company also includes some tools you need to run an online bussiness. Besides,the training is really step by step and no way people feel overwhelmed.
Before You Buy , Here's a list of Services From Affilorama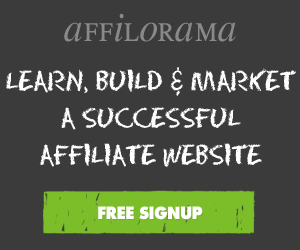 Affiloblueprint (for complete newbies and especially for people who wasted money for scammers , $197 lifetime access,include Affilotheme)
Affilorama Premium ($1 for 30 days and then $67/month including Affilotools ,for those who need advanced training )
Affilotheme ($97, it's a lifetime access and lifetime update,you also get free one year of hosting service)
Affilotools (You can get it free or benefits from Affilorama Premium,of course free service has some limitation). However,you can get free service from Affilotools to check your website's health
Affilojetpack ($997 but via my link,it's just $747) . This is a done for you bussiness and so that there's no more slow result.


---
---
Now,let's discover what exactly you get with each product
1.Affilorama Free Membership
Despite being a free membership,i'm really impressed with the training it offers. You will get access to not ony 20 hours of training,materials and interviews with successful affiliate marketer. The value you get from the free membership is attractive when he introduces some tips,affiliate programs.


Basically,in the free service,he teaches something you need to do as an affiliate,from building a website, content creation to Pay-Per-Click  and Search Engine Optimization . In addition,there are over 100+ free lesson with virtual book to help you keep on track.
You will also get access to affilorama's forum and even his webniars frequently


Notes : When you register a free service,make sure that you learn all the content here,don't be in shiny object syndrome. I'm pretty sure with you,if you work hard,you can even make money because they are the tips i'm currently using.


2.Affiloblueprint 3.0

Affiloblueprint is range of step-by-step video lesson about how to start your own affiliate bussiness from scratch. Affiloblueprint is like the name,the blueprint when Mark Ling teaches you basic task like research and create content. Of course,with a beginner,he recommends you to get free traffic via google and social media.
Who is Affiloblueprint for?
Beginner who wants to start building affiliate website from scratch
Intermediate and even higher want to go over about PPC traffic (it's really hard)
You have outsource freelancer at a wrong way so that you want to improve
People who are bleeding their money for scammers
If you want to go over about search engine optimization
You haven't built an email list yet so that you want to start
What you get inside the Affiloblueprint?

Firstly,you will get 12 part video series on how to create a website,drive traffic and monetize to it. In this Affilorama's product,there are over 85 video lessons with homework task in order to keep you on track. Secondly,you will get a free hosting for 1 website for one year. You will also get the premium WordPress theme Affilotheme. Next,you get access to the private forum and support while building a website (like nameserver). Lastly,you will get access to AffiloTools and Affilorama Premium trial.
What i really like about Affiloblueprint is that he teaches about building an email list and goes details about SEO. Sooner or later,you need to build your list to make money for a long term. He also teaches you about doing the market research,believe or not,you must have a buyer intent. Clickbank is always the fastest way to get accept into high paying CPA or affiliate network and Mark Ling go details about that. Some people says affilorama blueprint is lacking of advanced training,wrong,PPC advertising is highly advanced and not many people can implement. Like i says,the main purpose of Affiloblueprint is to make money for a long term,it's not a get rick quick scheme.

What I Don't Like About Affiloblueprint?
At first,after purchasing affiloblueprint,you will soon realize that you need to buy the upsell Affilorama Premium. You will get the AffiloTools because Affilotools is only for Premium member. In addition,most of the advanced training are coming from Affilorama Premium. After one year of buying Affiloblueprint,the hosting will expire and you can only extend by purchasing Affilorama Premium. You know,AffiloTools is a keyword tool and website audit and certainly you need it to post article.

My Verdict about Affiloblueprint
In a nutshell,Affiloblueprint is still a good product from Affilorama. Please note that Affilotheme has squeeze page and even opt-in page in order to increase the conversion rate. Of course,i recommend this product for complete newbies and even intermediate to affiliate marketing. Affiloblueprint is right for those who want to make money for a long-term and learn PPC,SEO traffic. If you don't like this product,it's ok to claim a refund.
Check Out My Affiloblueprint Review
3.Affilorama Premium

There is no doubt when Premium membership is the best service from this company. Actually,you can buy this product directly or as an upsell of Affiloblueprint,Afflilotheme and Traffic Travis. The price of this course is $1 in the first month and then $67/month. Unlike Free and Blueprint,premium membership is fit for beginner,intermediate and especially advanced. Like i have mentioned above,once joining Premium,you will also get access to the AffiloTools.
Who is Affilorama Premium For?
Advanced Affiliate Marketer who wants to save time and even money by having a range of tool in one monthly membership
Intermediate affiliates who wants to get advanced training and tools in order to scale their bussiness up
If you want to get a hosting service and advanced tools for internet marketing simultaneously
Benefits of The Affilorama Premium
Save You A Lot of money (keyword tools,website health checker and hosting are in)
It's keeping update (don't worry because it's a monthly membership)
Helps raising search engine ranking
A lot of Advanced training about SEO and PPC traffic
Even have integration with Google Analytics and Bing, 33% of your internet marketing process
What you get inside Affilorama Premium ?
Firstly,you will have integration with MOZ, SEM Rush, Twitter, Facebook, Google Analytics, Bing, ClickBank, enom and Namecheap. Secondly,you get to backlink checker and a high PR link finding tool to uncover partner. Next,you get access to the website health checker (audit) to score your on-page SEO,page speed,page index and page errors. You will also have a premium keyword tool to find PPC keyword,competition analytic and month search volume. In addition,the Affilorama Premium has a domain research tool and social media tool to update Facebook and Twitter faster.
I have told you before,most of the advanced training is coming from the Affilorama Premium. I want you not to worry about updating because Mark Ling is always keeping up to date to the industry. Inside this premium training,he gives you a blog bootcamp videos series and step by step guide to video marketing. Each month he will allow you to access PLR content in numerous niches(that what i don't like). In the hosting server,he claims to host 15 websites but i think you get 10 is over.

What I Like About Affilorama Premium?
A lot of advanced training and content
Getting access to PLR (private label rights) articles each month with multiple niches
Integration with Google Analytics,Bing and especially Moz,Semrush
It's always up to date so that the bussiness is always keeping up
Tracking with Clickbank (in order to see click,sales and conversion from Clickbank)
Even Get a website audit tool together with on-page SEO,index error
He teaches about CPA marketing (very profitable but not many people know or start)
 Have a domain research tool in order to find the best domain name before starting a campaign
Premium keyword research tool and backlink for SEO
What I Don't Like About Affilorama Premium?
The first disadvantage of this membership is the hosting because he claims to host for 15 websites but actually not. The bandwidth and disk space has some limitation so that 10 or less are enough. The next one is PLR content (Private Lable Rights),which is causing you of copying other's content,very dangerous.

My Verdict on Affilorama Premium
In summary,i highly recommend you to join the premium membership because there's a lot of useful tools and training are coming from here. In addition,you can learn a lot of advanced training about traffic and CPA affiliate marketing. Personally,i think $67/month is an OK because a keyword tool,training,hosting can cost you +$100/month.
4.AffiloTools

Like i have told you above,once you join Affilorama Premium,you will get access to AffiloTools. However,there are 2 ways for you to join this service. The first way is to buy Premium membership while the second one is to join as a separate bussiness. Actually,you can join AffiloTools for free but have some limitation. What i really like about AffiloTools is that it can estimate to the traffic and SEO score.


Look at the picture,you can see,Mark Ling made this tool in order to help you make money with clickbank via organic traffic.

Look at the pricing plan if you choose the separate bussiness


In summary,i think you should choose to get AffiloTools via Affilorama Premium rather than a separate bussiness. Like i have told you before,you can register maximum 10 websites in Affilorama server,not 15 like he claims.
5.AffiloTheme
The price of Affilotheme is $97 and it's a lifetime access plus update. There are 3 ways for you to have this theme. You can get it as a bonus of Affiloblueprint and AffiloJetpack or a separate bussiness. What makes Affilotheme become outstanding is that it is customized for SEO. Having this theme,you will also get a leadpage,squeeze/optin and header creator. Like i say,this is a one time payment so that it is updating overtime.
What You Get Inside Affilotheme?
1 Year Webhosting for free in Affilorama server
6 Premium WordPress themes and they are child themes
Even get a link cloakening tool (in order to to create a shorter and prettier affiliate link)
Squeeze page together with optin page and have integration with autoresponder software
Popover and exit pop functionality (for Thank You Page)
Getting access t0 the training and private forum
Easy layout option and change colors, fonts and graphics
The only upsell of Affilotheme is Affilorama Premium membership,which is $67 per month.
AffiloJetpack is not really a training course,it's a 80% pre-done for you bussiness so as to remove slow results to affiliate marketing. Many years ago,the price of AffiloJetpack was $497 but it is $997 now (you will get a discount). Before buying the AffiloJetpack,make sure you prepare your budget for 5 domain names and an autoresponder software (i don't recommend Fluttermail).
Affilojetpack is like the name,the jetpack when his purpose is to help you build your list of 5,000 as fast as possible. Actually,it's good for beginner,intermediate and even advanced affiliate marketer.
A List of 18 guarantee profitable niches since he comes to affiliate and you need to choose five of them
Each niche has one year email newletter and he choose offers for you
Affilotheme as a bonus in order to create a squeeze/optin page
3 ebooks per niche as a bait,bonus and rebrandable (so that you have 15 ebooks)
20 article pack research for each niche (contains paragraph ideas and facts together with focus keyword)
Customizable Website Header
1 Year Shared Hosting for those 5 domains
A Fluttermail account with autoresponder series
Affiloblueprint as a bonus for beginner and intermediate
After that,the only thing you need to do is to gain traffic to your website. He will give 3 video about traffic source. The first one is youtube free traffic when Mike Long teaches you how to create and market. Secondly,he instructs you how to drive traffic using Amazon Kindle. With this strategy,you will not only make money with KDP but also email autoresponder. Lastly,he teaches you how to drive traffic with solo ads (very high conversion rate).
How much should you prepare before buying the affilojetpack?
Firstly,you must have 5 domain names for 5 website. Secondly,i strongly recommend you to invest an autoresponder software instead of using Fluttermail. With 20 article packs for each niche,you get 100 article packs,you can outsource writer outside or write article yourself. Of course,which all the research done,it's no need to worry about who you are outsourcing. In addition,driving traffic with solo ads can cost you +$100 for one time.
Final Verdict
In summary,Affilorama is still a good training program for those who want to make money online. There's nothing perfect and Affilorama,too. What i don't like about Affilorama is a support,which requires a few day to hear a respone despite being one of the best community.

Affilorama Free Membership -

8/10

Affiloblueprint -

8.2/10

AffiloTheme -

7.8/10

Affilorama Premium -

9/10

AffiloJetPack -

10/10