Recently, i have seen many inbox, message, email from people to request bonus delivery after buying from my link. And, i make this page to show you need to understand.
1.For Jvzoo Product
When you buy a Jvzoo product, normally, Jvzoo will send an automatic email to you with a link to customer.jvzoo.com
Of course, you will have an account because Jvzoo will create automatically for you. You have to login there, then, choose the product you have bought.
Then, Scroll down to see the "Access your Bonus" Link. If you don't see a direct page from me, then, 100%, you don't buy through my link, so, in this case, even if you contact me, i won't give you bonus.
Please try to understand.
2.For Paykickstart Product
You can take time reading this article. Normally, when you buy product from Paykickstart, they will track referral link. After that, they will send email to you. This is how it should look like. Therefore, if you don't see that specific message, then, maybe you have not bought from me.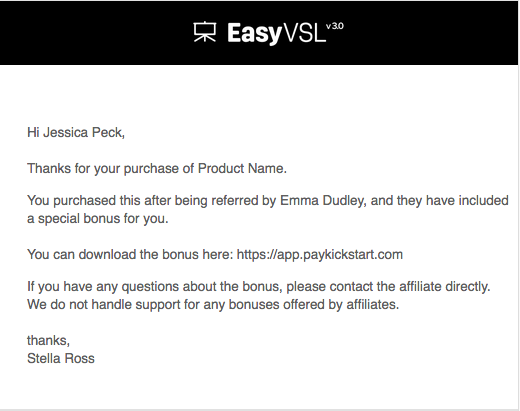 And that's why i have to say this, those who actually bought from me through Paykickstart never send request email or chat message because the link has been redirected them.
3.For Clickbank Product
There is no instant bonus delivery, please try to understand, this is due to Clickbank features and it doesn't allow direct bonus delivery. You must manually send request with your receipt.
4.For Warrior Plus
I have not seen any issue relating to W+ about bonus delivery until now and have not seen any message request for W+.
Whenever a customer purchases that product from my link, they will recieve their bonus from me automatically, when the customer goes to the "Thank You" page from their delivery email. The buyer will be able to access the bonus via the Bonus URL that i have provided.