Product : Fan Page Domination
Creator : Anthony Morrison (one of the biggest name of internet marketing so far). Also the founder of Mobile Optin,Email Domination Profit Cycle.
Price : $1,997/one time or $797/3 times when bill monthly
Do I Recommend : Yes But Make Sure You Have Some Budget

Highly Recommended But Not For Everyone
Presently,Facebook is really a gold mine with internet marketing. Your Facebook Fanpage together with your email list is most of your online income. Therefore,building an email list and setting up a fanpage is nearly essential. However,it's not easy at all because you need some skills and budgets and know how to master it. Fan Page Domination is a great training by Anthony Morrison with an aim to help you dominate your fanpage. Now,let's check out my Fan Page Domination review and see the member's area so as to know what inside. But,let's know some little bit about Anthony Morrison.
Who Is Anthony Morrison,Founder of Fan Page Domination


First,he is one of the most successful internet entrepreneur besides Mark Ling (affilorama and affilojetpack owner),Anik Singal (inbox blueprint owner). He is also a brother of Adrian Morrison (founder of Ecom Success Academy,one of the best dropshippers at Shopify). Anthony started internet marketing since 2005 at the age of 21 and now become the biggest names. He features at some of the most famous media such as CNN, Los Angeles Times, FOX9, Among Others.
What Is Fan Page Domination?

At first,it's a training course that teaches an overview about how to monetize by building a fanpage. Fan Pape Domination is a step-by-step training about Facebook and Email Marketing Mastery. Unlike many other course that focus in one vertical (such as affiliate,FBA,dropshipping,product creation,..) ,this course teaches a strategy that works with all.
Who Is Fan Page Domination For?
Complete newbie to internet marketing
Intermediate and Professional internet marketers who want to scale their bussiness up
You have bleeded your budget wastelessly and uselessly with some scammers
People who are not looking for a slow-result (but it's not a get rick scheme)
If you are looking for a real bussiness that works effectively now
You haven't set up a Facebook Ads and Email Marketing campaign once in your life
If you are tired of hearing a system that can claim to help you make money with low-effort
You are finding a course that has some Done-For-You so as to build faster
The Training of Fan Page Domination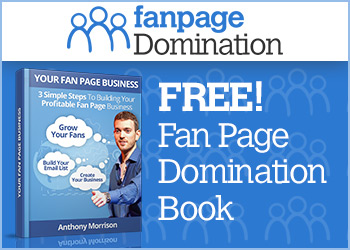 At first,let's take a look at the member's dashboard of Fan Page Domination


Unlike other course,Anthony wants you to take action as fast as possible so that he just divides into 4 main phases.
Phase 1 : Getting Setup
The first phase of Fan Page Domination will cover about marketing setup such as autoresonder,fanpage,adsense and landing page.


This part is not too hard and you can implement nearly immediately.
Phase 2 : Build & Grow
After the setup process,then your next part are to build and grow your fan page.


As you can see from the picture,the strategie he teaches you is to collect a lead through your Facebook Fanpage. Therefore,a high quality post and photo is nearly the key for a good fanpage. He will also add some PDF file with examples to make your life much easier. The main purpose of Fan Page Dominator Phase 2 is to help you get as many as 1000x viewers by posting. In other word,you are adding value as well as building relationship through your Facebook Fanpage.
Phase 3 : Scale & Launch
The third phase of Fan Page Domination is about scaling traffic and building a massive list of 50,000 subscribers.


You will also learn about the Countdown and Slingshot that allows you to post with link to your optin page. In addition,you know about Facebook Live and list segmentation. Money in the list and with 50,000 subscriber,you have an earning potential of $10k/day. If you are running a CPA affiliate marketing,you can even get paid without a sale but a lead. For example,an offer claims to pay you $1 per lead,with 50,000 free sign up,you get $50,000 with just a simple sign up form. And let's think,if you are promoting payday loan offer,it scale like crazy.
Phase 4 : Monetize & Profit 
The final phase of Fan Page Domination will go detail about Monetization and Future Profit. It's like you are getting profit again through your list or redirect visitors to other offers.


Of course,you do that through your email campaign. And hey,selling advertising is an advanced training that may take a little bit time to implement.
Bonus of Fan Page Domination
Once you finish the core training of Fan Page Domination,you can go to the bonus. In my opinion,some of the bonus has even more value than the main course.

1.Case Study
Remember,case study is always one of the best way to help you start your bussiness because some people didn't know where to start. In addition,it's a real life example from Anthony as he did himself and succeeded. There are 8 videos he shares that generates 232,000 FB viewers during his launch. This case studies include documents to help you take action as easy as possible.


Some videos are really the same as my vendors at Jvzoo,Amazon Sellers (check out Amazon FBA Ninja and Amazon Bootcamp) or dropshippers (check out Ecom Success Academy) are doing to launch their product. And you know,some of them are millionaire,just do the same.

2.Fan Explosion Software
Joining Fan Page Domination,you will also get access to his software (fan explosion),a chrome extension. Actually,it's a software that helps New Fans Page generates thoundsand of fans.

3.Live Workshop With Anthony
This is a series of 7 weekly webinars live training from Anthony for you to ask and he will especially answer himself. It's useful for people who are looking for a live coaching. And hey,he also instructs you about email marketing techniques and getting traffic.

4.Concierge Program
Actually,it's a fast action bonus to help you start your fanpage and bussiness as fast as possible. This allows you to ask him and he will directly answer your question.
5.Niche Research
Posting related article to any niche and doing some research is always one of the most-time-consuming part so far. But the good part is,Fan Page Domination has some niche research of guarantee profitable niche for you just to customize. Other trainining like Affilojetpack,Lurn Insider,Super Affiliate System and Inbox Blueprint do this and so does FP Domination.
6.Done For You Fanpage
This is a really cool feature when his staff will set up the fanpage for you. Just fill out the information and submit,then Christina will do it for you,just wait.

7.Bonus Training
Actually,he gives you a free training from his brother Adrian,this is a list segmentation part of Ecom Success Academy to help you grow your list. Of course,it has some relevant to Fan Page Domination.
8.Success Connection
It's an Elite Profit Webinar training from Anthony for you to benefit since he started internet marketing.


And that's all you get inside the $1,997 package.
My Bonus
In order to make your life much easier,i will add some extra bonuses if you buy Fan Page Domination through my special link. Just simply buy and then contact me with your name and your receipt. I will check and give you access after that. Unlike some people,i just add bonuses that you will definitely need once buying Fan Page Domination.
1.50 Customizable Facebook Ads Templates (Value At $397)

When buying Fan Page Domination,you want to improve your facebook ads conversion. Therefore,this bonus is a must for you after you become a Fan Page Domination 's member. They are all editable and customizable that works on various niche. Besides,you can also add your website logo on the templates.
2.Social Media Domination (Value At $97)

This is a 60 pages ebook that especially teaches you on how to dominate social media traffic besides Facebook. Certainly it's an ebook that you definitely love after buying Fan Page Domination. Moreover,it has action checklist,resources cheat sheet to avoid you from jumping around.
3.Pinterest Magic (Value At $47)

It's a brand new social media network but not many people focus about it. In my opinion,you should read this ebook because people use Pinterest widely. And best of all,it can strategically support your Fanpage,which is what Anthony mainly teaches on Fan Page Domination.
4.Social Media Genius (Value At $97)

Discover How a Self-Professed Internet Dumb, Dumb Uses Twitter and Facebook to Develop A Niche Marketing Empire From Scratch.
5.Social Media Tips and Tricks (Value At $47)

Discover How You Can Use Social Media To Boost Your Online Business… Build Your Sales, Better Interact With Your Customers, and More…
6.Instagram Mastery (Value At $67)

Anthony doesn't support Instagram inside Fan Page Domination and that's a shortage. You should also use Instagram because it has more interactive rate than Facebook. Moreover,it works like crazy once you have prepared a landing page.
7.Facebook Ad Geek (Value At $47)

This ebook shows you exactly on how to manage your Facebook ad campaign like an expert. Of course,it lengthens your knowledge besides Fan Page Domination 's training.
8.Facebook Retargeting Bullseye (Value At $47)

No matter how experience you have,certainly Facebook Ads does not always work effectively. Therefore,you should retarget your audiences for scaling up your result and to save money.
9.Video Ads Made Easy (Value At $147)

Video marketing is always one of the best way to increase conversion of your Facebook Ads campaign. Therefore,this ebook is a win-win combination with Fan Page Domination. This 80 pages ebook shows you step by step on how to master video ads to display on Facebook.
10.Facebook Marketing and Traffic Videos (Value At $197)

These are steps by steps and over the shoulder showing you exactly how to monetize on Facebook. You will learn about ,How to brand your company so you stay in people's minds,How to generate 1000s of visitors from Facebook.How to build your Facebook fan base fast and much more. I believe that you need these video training after buying Fan Page Domination.
11.Social Media Profit (Value At $147)

Social media marketing is an incredibly powerful tool to get targeted visitors and increase brand visibility and get authentic customer feedback. Keeping this in mind, I am, providing this package that includes important strategies to increase your brand exposure on most of the social media platforms and boost business profits. Take its benefits in order to become successful in the long run. But hey,it contains resources cheat sheet,pdf report and checklist to help you keep track.
12.Social Media Income-Facebook (Value At $87)

Inside this amazing package, you'll get an amazingly easy-to-understand video series that will teach you essential Facebook marketing strategies to build your brand, grow your business, and get more leads and sales.
When combined with the immense Facebook traffic generation powers of Fan Page Domination, this package simplifies your growth prospects and makes success your counterpart.
13.Social Media Traffic (Value At $67)

This package includes an info-filled training guide will teach how to successfully drive traffic from social media to your website, and convert it into lifetime customers.
14.Instant Conversion Mastery (Value At $97)

If you are still wondering how to convert your targeted traffic into loyal customers in order to boost sales of your offers, then surely this is the right product for you.
Inside this video series, you are about to learn the essential information on how you can convert website visitors and turn them into returning to loyal customers. Use these strategies and create high converting marketing pages with Fan Page Domination, and take your business to the next level.
15.List Building Secrets (Value At $147)

This is a 95 pages ebook showing you exactly on how to use your email list effectively. When combined with Fan Page Domination,it helps you monetize for a long-term process. Email marketing together with Facebook Ads is always good because you target the right audiences.
And these are all the bonuses if you buy Fan Page Domination through my specialy link. If you need more,feel free to contact me and tell me what you need. And don't forget to send me your receipt.
[button-red url="https://mcrmgo.com/go/flexpay/615″ target="_blank" position="center"]Get Fanpage Domination + My Exclusive Bonuses[/button-red]
What To Prepare Before Joining Fan Page Domination
Well,every bussiness requires some investments and so does this course.
Domain and Hosting (compulsory) : besides your fanpage,you need a website with an optin page (dreamhost and Inmotion Hosting is a good provider)
Autoresponder Software (compulsory) : The aim of this course is to help you build a list of 50,000 subscribers fast . With this massive subscriber,it may cost you a lot per month. It seeems like he likes Getresponse the most.
Landing Page Creator (compulsory) : As i mentioned before,what you need is to build an email list and your landing page is the key. WPprofitbuilder,Instabuilder,Instapage or LPM is a good tool for you.
Facebook Ads (compulsory) : besides setting up and posting in your fanpage,you also need to get a massive traffic to your fan page.
Tracking (not required but highly recommended) : if you don't track your campaign,you don't know where is your link,sale,click from. CPV Lab is a great tracking software at an affordable price (much cheaper than many in the market). Or you can also use his tracking software,BuildRedirects.
Pros of Fan Page Domination
Done For You Niche Research
Properly Teach About Email Marketing and Facebook
Live Coaching With Anthony
Step By Step Training and Easy To Understand
Access to Fan Explosion Software For Free
Done For You Niche Research (save a lot of time and energy)
Free List Segmentation Training Lesson From Ecom Success Academy
Done For You Fan Page Setup
Real Life Case Studies
A Lot of High Level Training
Fast Action Conceirge Program
$25 Credit For Facebook Ads
Nice and Fast Support
Cons of Fan Page Domination
1.Expensive Price
Well,$1,997 is not an affordable price for everyone and it's not all you need before joining Fan Page Domination. This is the main reason why i don't recommend this course to everyone,please consider.
2.Just Facebook Fanpage and Facebook Ads (nothing else)
[button-red url="https://mcrmgo.com/go/flexpay/615″ target="_blank" position="center"]Get Fanpage Domination + My Exclusive Bonuses[/button-red]
Final Verdict
In summary,Fan Page Domination is a great training course for anyone who want to earn big. What i like about this course is that he teaches very detail about how to grow a massive list and monetize from a fanpage. I also love Facebook Ads and email marketing because it works very well. In addition,there's a lot of valuable bonus and especially "the Done For You Fanpage, Niche Research",Live Coaching,Question Answer from him. Of course,i highly recommend this course if you can afford and have additional budget before joining.
[button-red url="https://mcrmgo.com/go/flexpay/615″ target="_blank" position="center"]Get Fanpage Domination + My Exclusive Bonuses[/button-red]